Consider the advantages of Aardvark's full-service construction sweeping. We'll match our equipment to your specific construction sweeping requirements and debris levels with as many machines as you require.
As the only NAPSA Certified (North American Power Sweeping Association) sweeping company in Memphis, our professionalism starts with our people and training. Employees show up at your facility at the time scheduled, drug-tested and in uniform.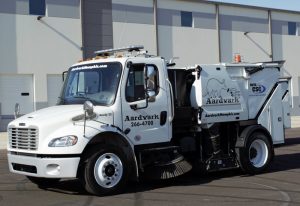 Aardvark's best-in-breed TYMCO and NiteHawk sweepers are replaced every 5 years, inspected by certified mechanics 7 days/week. To always be ready – we have additional, spare units ready for deployment.
Partnering with the company that has the proper equipment for your specific project and the skilled personnel to do the job right will save you time and money.
Download our 25-point Comparison Chart to see how we stack up – Apples-to-Apples – compared to your current construction site sweeping solution.
Whether it's new construction, surface repairs, or demolition work, vehicles traveling to and from the jobsite can create quite a mess to surrounding surfaces, known as dirt track out. Cement trucks, dump trucks, graders, and other service vehicles common on most construction sites leave mud and dirt on adjacent roads when they leave the jobsite.

Track out also leaves stones on the road, which can damage passing cars. Dirt track out can do more than annoy neighbors—it can lead to costly fines from municipalities and building inspectors. Contracted or on-call sweeping service from Aardvark Memphis can help your construction company avoid potential fines and the expenses associated with using your own crew to clean up your jobsite dirt track out.
Using a professional sweeping company that understands the complexities of construction sweeping will keep you in compliance with local building regulations and keep your crew doing what they do best.
Construction sweeping also improves the image of your jobsite and creates a safer working environment for your personnel.
Although many construction and demolition contractors associate construction sweeping with track out dirt left on roads, this isn't the only reason to sweep your jobsite. Construction sites are also notorious for creating large volumes of airborne dust, which pollutes the air annoys neighbors who live or work in the area. Construction sweeping is one of your best defenses for combating a potential shut-down due to fugitive dust complaints.
Contact the construction sweeping pros today at Aardvark Memphis. We'll be happy to review options and help you come up with a plan to keep your demolition project or construction site clean and compliant.