RENT A CLEAN • EASY TO LOAD • DRIVEWAY-FRIENDLY DUMPSTER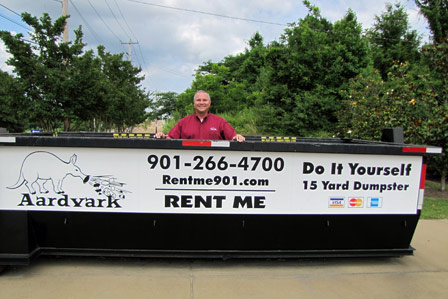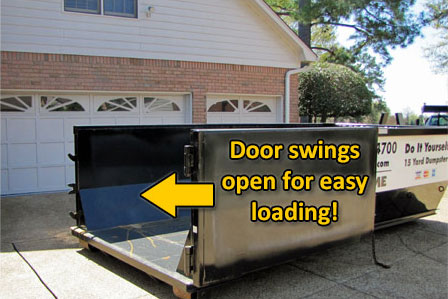 7-Day Dumpster Rental is $445.00*
This rate includes:
15-cubic yard dumpster for up to 7 days
Delivery – delivered to Collierville, TN any day, Monday through Friday (customer's choice)
Pickup – picked up Monday through Friday (customer's choice) but not to exceed 7 days total
Waste disposal fees (for up to 4 tons** of refuse)
Dumpster rental can be kept for an additional week for $50
Dumpster rental delivery Saturday morning (until noon) $50 additional
If Saturday delivery is requested, dumpster can be kept until the following Monday (9 days total) for pick-up at no additional charge
* Plus applicable local / state tax, charged based on total dumpster rental fees.
**To avoid additional fees, please stay within the 4-ton weight limit. We are happy to help you determine typical weights if desired.
Click here to schedule your dumpster rental
Our Residential Dumpster Rental Service is designed for projects like home improvement, light demolition, landscaping or house clean-outs.
Most home driveways in Collierville, TN were never designed for the weight of a large dumpster roll-off truck. Aardvark's dumpster delivery trucks are smaller, lighter and more maneuverable than the large, national dumpster companies.
A 15-cubic yard Aardvark Memphis rental dumpster is easy to load over any side.
In addition, a rear door can swing open for easy walk-in loading.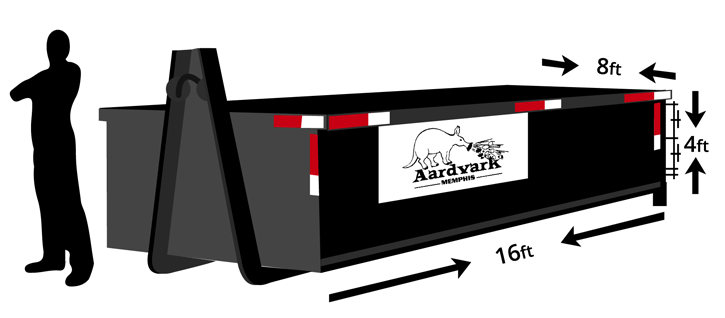 Why Rent A Dumpster from Aardvark Memphis?
Rent a residential-sized dumpster that you can fill yourself. Eliminate headaches, wasted time and outside labor costs! Dumpster rental is an economical answer to disposal needs.
Renting a residential dumpster saves all the time you would spend driving back and forth to the landfill, not to mention the cost of labor. You can tackle that home improvement or cleanup project yourself, at your own pace.
Click here to schedule your dumpster rental
Aardvark Dumpster Rental Provides:
Reliability – We do what we promise and communicate with you along the way
Quality – Collierville and Piperton are a beautiful area. Nobody wants to see a beat-up rusty dumpster parked in your driveway. We take pride in delivering an attractive, sanitized dumpster to your home.
Convenience – Our dumpsters are clean and compact and can be placed close to your house without taking up your entire driveway or damaging the driveway during delivery or pick-up.
Flexibility– Keep the dumpster for a full 7 days and work at your own pace
Consumer Tip: When renting a dumpster in Collierville, ask if you are talking with a broker. You may be surprised to learn there are companies out there that broker dumpster rental transactions to a variety of third parties; not a company local to our area. When you use Aardvark, you are renting from a local Memphis company, with no middleman, and you will get the service you desire.
Non-Approved Materials:
An easy rule of thumb is: if it's flammable, toxic or hazardous the landfill will not accept it. Here are some common examples of non-approved items:
Animals
Antifreeze
Asbestos
Barrels
Batteries
Bricks
Chemical Products
Concrete
Freon (refigerators, air conditioners or canisters)
Hazardous waste
Herbicides and pesticides
Lubricating/Hydraulic oil
Medical waste
Monitors
Motor Oil
Oil Filters
Paint
Propane tanks
Radioactive material
Railroad ties
Solvents
Stone
Tires
Transmission oil
Material must be level with the top of the container; nothing can be sticking out of the top.
Click here to schedule your dumpster rental
Aardvark's pledge to our customers:
Drivers delivering and retrieving dumpsters will always be professional, uniformed and courteous.
Our dumpsters will arrive clean and sanitized.
Pickup and delivery will be completed on the days you scheduled.